SerajAhmad Misbahi is a classical Islamic scholar and English-Arabic-Urdu writer. He has graduated from a leading Islamic seminary of India, acquired Diploma in Arabic. He has also graduated in Urdu, History and Islamic Studies and has done his M. A. in Language and Humanities  from Jamia Millia Islamia, New Delhi. He completed his M. Phil. From Delhi University and currently doing his PhD from Jamia Millia Islamia, New Delhi. He has the experience of translation in two big reputed MNCs.
Seraj Ahmad Misbahi was born on 07/11/1992 in UP, India. He got primary education in his village and then at the age of nine he got admission in Madrsa for the memorization of the holy Quran, Alhamdulillah, he completed this process within four years and continued his education in Islamic studies at Darul Uloom Alima, Basti until he completed this nine years course of Fazilah in 2014 at the Arabic University of Al Jamiatul Ashrafia, Mubarakpur, Azamgarh along with his graduation in B. A. (Distance Course) from Maulana Azad National Urdu University.
In this thirteen to fourteen years period, he have completed Urdu & Arabic Diploma(NCPUL) CABA MDTP and CCC courses of computer from NIELT Chandigarh.
In order to pursue higher studies, Seraj Ahmad Misbahi applied for M. A. in Jamia Millia Islamia, New Delhi wherein he has passed out this course in 2016 along with JRF Award (Junior Research Fellowship) at the end of 2015. For further study, Seraj Ahmad Misbahi was selected for M. Phil. (Master of Philosophy) in University of Delhi. Alhamdulillah, he was conferred the award of M. Phil. in 2018. In Feb 2019, Seraj Ahmad Misbahi has been selected for Ph. D in Jamia Millia Islamia.
Seraj Ahmad Misbahi's Books and Lectures:
Who is Imam Hussain? (English) The Political Legacy of Umar The Great (Arabic and English) The Introductory of Jamia Khwaja Qutbuddin Bakhtiyar Kaki(English and Arabic) Practical Method of Arabic and English Translation (English and Arabic Lecture)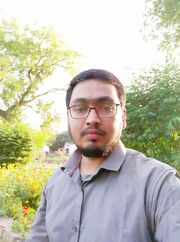 Seraj Ahmad Misbahi has worked as Arabic into English and vice versa translator since February 2016 till 09/2018 in " Data Flow Groups Services (India) Private Limited" located In Noida, India. It is a pioneer Middle East based leading company for background screening. He has joined Aegis Global known as Startek (Gurgaon) as a Senior Executive in department of operation in November 2018 till 03/2020.
Community content is available under
CC-BY-SA
unless otherwise noted.